Our Team
"We have a remarkable team. Everyone pulls together and is willing to help each other. Each person is cross-trained, which keeps the office flowing smoothly. At Conroe Pediatric Dentistry, we care about every child's experience, as well as their oral health. We strive to be all we can, while remaining down-to-earth and humble."
~ Dr. Harris
---
Debbie
Office Manager
I have been in dentistry for more than 30 years and a part of Dr. Harris's team since 2013. I started dentistry as an assistant and eventually moved to the front desk and became an office manager. The knowledge of both front and back, and my years of experience, help me train and lead the office so that we all become better at what we do. I enjoy our great team, amazing patients and being able to watch the difference we make in each child's life!
I am married with a grown son and have three dogs. In my spare time, I enjoy the outdoors, hunting, fishing and hiking.
---
Tamara
Front End Coordinator
I have been in dentistry for 20 years. I love having the dental knowledge along with being able to help people. I had started out as a dental assistant and worked my way into being a front end coordinator. I love being in pediatric dentistry. I like getting to see all the kiddos grow up.
I am very happily married with a son and daughter in law. I love the outdoors. My hobbies include hunting, fishing, and most outdoor activities. My most favorite pastime is being with my amazing family.
---
Patti the Puffin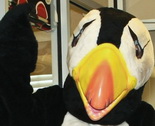 Hello, my name is Patti, the pride of Dr. Harris's office. I am an Atlantic Puffin. Fisherman down at the wharf call me a "sea parrot," even though I don't really talk. Some people say I'm "the clown of the ocean," with my colorful beak and unforgettable flying style. Most of the year I live out at the sea, but every spring I return to the tiny rock-cliff island where I was born. At the rock-cliff island is where I meet my mate and where our chick will hatch.
When you come to Dr. Harris's office, you can look for me; I am found all around the office. I can also be found in February for Dental Health Month visiting local schools and daycares. I like to tell kids how important it is to keep a healthy and clean mouth. Come visit our team soon!